People - Friends
I am very fortunate to have met a number of people who I care for as friends. I regret that we are all so far apart and busy with work and families that we see much less of one another than I'd like. When writing this section, I wasn't sure who to start with, and I've certainly left people out inadvertantly. I'm also uncertain whether people will mind being included here. So, with some trepidation, here's a start:
Alfred is my partner of over eight years and my friend. He knows me as no other person has. He supports me when I am stressed, tired and tetchy, he soothes me when I am angry. He is a person of infinite patience and wisdom. We often have our ups and downs and we are as different in personality as can be, but I know in my heart that he cares for me in a way that I don't deserve and can barely return.
Julian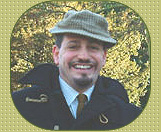 I had no closer friend during my teenage years than Julian. Seen by many as a Holmesian throwback, there is plenty more to him, if you care to look. Julian now lives in Israel, and we correspond by email, but he is in my thoughts every day.
David and Pita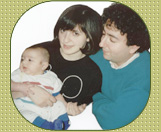 I met David and Pita on my first day at college. In fact, I'm sure I introduced them or something. We became closer as friends after Oxford, when I was living in Germany. After going out for years, they married in 1989 and now have two gorgeous children. They have been close and loyal friends. Pita tried to fix me up with some of the most eligible women in Oxford - I was naïve enough never to realise the opportunity. We shared a marvellous holiday in Mexico, which introduced me to the mystery of the Mayan culture. I miss living near them, as we used to see so much more of each other when I lived in Oxford.
Tom and Sam
Tom and I were two of four people sharing an infamous student house at 26 Princes Street. It seemed like all the girls I liked as friends were the ones he wanted as girlfriends. He now lives in London and is married to Sam (also a college friend) and their two lovely children. We see each other far too rarely, but it's a great pleasure when we meet up. We've also shared some great theatre experiences, as we like thought-provoking plays.
Lucy and Mike
Lucy is one of the most caring, intelligent people I've known, with a huge heart and bubbly personality. She has been a super friend for a long time now. Lucy now lives in Edinburgh with her partner Mike. I haven't seen them for a while, in fact since a clandestine nighttime rendezvouz in the Cheshire countryside with a telescope.... But Lucy is somebody who's in my thoughts often.
Jonathan
Jonathan has an almost chemical effect on people, a presence which is felt as soon as he enters a room. He brings light, charm and wit to any occasion. Behind this levity lies an intelligent, serious person. Jonathan has a passion for gadgets so strong that he has almost conviced me to buy an iMac. We also share tastes in coffee and champagne.
Mark
Another friend who I see far less often than he is in my thoughts. Mark is one of the world's great socialites, a perfect gentleman, listener and confidante. He has a marvellous bungalow, which is surrounded by an exquisite garden with a sprinker system planted in the beds!